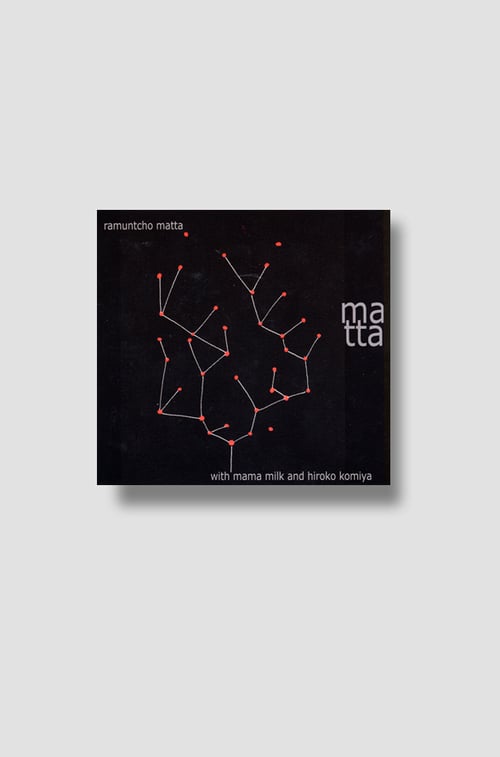 Guitar and electronics : Ramuntcho Matta
Accordeon : Yuko Ikoma
Contrebass : Ko-Suke Shimizu
Things : Hiroko Komiya
Mix and mastering : Frederic Dutertre
Recordings : Romain de Gueltzl
Édition 2010 : Alice Truche
Eko Sato : Eko Sato
Drawings : Ramuntcho Matta «genialogie 2006»
CD Audio 12 titres
Durée : 50:36 min
Genre : Electronic
Style : ElectronicOvidem ut distis re nit, ab ilibus et, quuntin ctatiuscia simusaepelit
En avril 2007, Ramuntcho Matta s!est ren- du à Kyoto pour jouer avec le duo japonais Mama Milk, il en est revenu avec des heures d'enregistrements live réalisés par Romain de Gueltzl. De cette rencontre de trois ins- truments, une accordéoniste, un contrebassiste et Ramuntcho à la guitare qui parfois chante est née une musique singulière où le jazz, le tango et la nouvelle musique se côtoient dans une intention à la fois zen et sincèrement contemporaine.
Afin de faire partager ces moments particuliers qui furent produits dans l!unique intention de se faire plaisir, sometimeStudio a décidé de publier ces enregistrements.
Le premier disque à sortir est "MA_TTA" qui en japonais veut dire "attends", "prends le temps". C'est un disque pour se détendre, un disque de relaxation intense et serein. En plus du trio d'origine, Hiroko Komiya est venue faire des sons avec des objets quotidiens afin d'en révéler la musicalité.
In April 2007, Ramuntcho Matta went to Tokyo to play with Mama Milk, a Japonese duo, and came back with hours of live recording done by Romain de Gueltzl. From this meeting of three different instruments, accor- dion, double-bass and guitar, above which Ramuntcho sometimes sings, a unique music was born, mixing jazz, tango and the new music in a movement which is both Zen and sincerely contemporary.
sometimeStudio decided to publish these recordings in order to share these moments created solely for pleasure.
The first record is called «MA-TTA» which means «wait» or «take your time» ... it!s a record for intense and serene relaxation. Hiroko Komiya joined the group with common objects to reveal their inherent musicality.